Updated: February 20, 2020
Top 6 Cherry Blossom Spots in Tokyo and Restaurants In Those Areas
Spring season has arrived, and it's almost time for the cherry blossoms to start blooming. This article will review the best spots to visit in Tokyo to enjoy the beautiful cherry blossoms and will introduce restaurants with a cherry blossom view in that area.
Feel free to follow favy!
1. Chuo Park (Shinjuku )
The western part of Shinjuku has a beautiful, vast park called the Shinjuku Chuo Park that is right next to the Tokyo Metropolitan Government Building. You might want to take a stroll in it after admiring the view from the observatory of the Government Building. In the spring, there are numerous mature sakura trees offering one of the best cherry blossom spectacles in central Tokyo.
If you work in Nishi Shinjuku and drink coffee every day, you'll be glad to know about Coffee Mafia! It's a small coffee shop that offers specialty coffee that's brewed with a hand-dripper. What makes the shop special, though, is its subscription service, which allows monthly members to drink unlimited cups of coffee! If you work within walking distance of the shop, it's definitely worth considering, as the coffee is both affordable and high-quality!

Visiting Japanese Sake event in the night
29ON Kakuuchi is a members-only restaurant meaning that a yearly membership must be purchased online before visiting for the first time. The memberships are available for ¥6,000 and can be purchased on the official website. Members are then able to go alone or bring a guest whenever they visit 29ON Kakuuchi. Most members go without a reservation, but it is also possible to make a reservation on the website if you like.

2. Meguro River (Nakameguro)
The Meguro River is a famous spot to visit in the cherry blossom season, with 800 cherry blossom trees standing along the riverside. However, as it is not a park, you cannot sit and have a picnic; you must walk along the riverside. Therefore, many people go to restaurants near the river to look at the cherry blossoms from the restaurant.
One famous restaurant that has a cherry blossom view is an Italian restaurant called "BACIONE".
It is only a 4 minute walk to the restaurant from Nakameguro station, and you can enjoy Italian food and wine while looking at the beautiful cherry blossoms. Their specialty dish is the Pork T-Bone Steak, which has been on the menu ever since they opened in 1996.
3. Ueno Park (Ueno)
Ueno Park is THE place that every Japanese person would think of as a cherry blossom spot in Tokyo. It is known as one of the most popular spots for cherry blossom picnics (hanami), with more than 1000 cherry blossom trees. As several hundred thousand people visit this park every day when cherry blossoms are blooming, those who do not like to be in crowded places should eat in nearby restaurants with a nice cherry blossom view.
One place that you can enjoy authentic Japanese food while also enjoying the cherry blossom view is Inshoutei, which is a restaurant located 3 minutes away from Ueno Park Station. During lunch time they have bento lunches and lunch courses that include seasonal dishes, and dinner courses during dinner time. The most recommended dinner course is the Sukiyaki course, which is unique for using chicken instead of beef.
4. Sotobori Park (Iidabashi)
Sotobori park is another place that you can visit to enjoy the cherry blossoms.Although it is not as famous as the previous two spots listed, there are 700 cherry blossom trees along the Sotobori moat between Iidabashi and Ichigaya Station. You can have a picnic there or take a nice 2km walk looking at the beautiful cherry blossoms.
After a nice walk around the park, there is a restaurant that you can enjoy the cherry blossom view in terrace seats, and this restaurant is called CANAL CAFE. They have a variety of dishes such as homemade pizza, pastas, and grilled meat. During the cherry blossom season, they have a hanami lunch, which is a lunch dish using seasonal spring vegetables and other food that matches well with the beautiful cherry blossom landscape.
5.Shinjuku Gyoen (Shinjuku)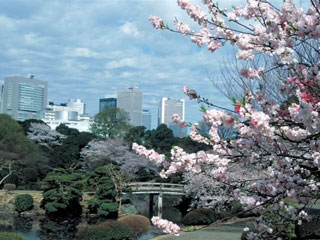 Located in central Tokyo Shinjuku, Shinjuku Gyoen has been the oasis for many people who loves and works in Tokyo. Shinjuku Gyoen has more than 65 kinds of sakura and many people gather around to see the beautiful views of cherry blossoms from early April.
3 minutes walk from Shinjuku Gyoen, Romana offers one of the best Roman-crispy pizzas around Shinjuku. Their ingredients are completely organic and enjoyable!
6.Chidorigafuchi (Kudanshita)
Chidorigafuchi around Kudanshita is where you can enjoy watching cherry blossoms while you hang on a boat! During the season, more than a million people will come to have a look at those brilliant tunnels of sakura!
After watching the beautiful sakura around Chidorigafuchi, how about having some beautiful chirashizushi? Traditional sushi restaurant Sushimasa offers great sushi. In spite of its great quality, the price for lunch is quite reasonable.
Enjoy Your Meal With A Beautiful Cherry Blossom View!
Outdoor picnics under the cherry blossoms are nice too, but it requires a lot of effort to make or buy the food and beverages. So why not go to restaurants near the famous cherry blossom spots to enjoy the cherry blossom view while being served with delicious food?

Restaurants Mentioned in this Article