Updated: October 17, 2019
11 Incredibly Delicious Tempura Restaurants in Tokyo
Tokyo
Tempura (vegetables or seafood dipped in batter, then fried) is a traditional Japanese dish and a staple in Japan. You need to try these incredibly delicious tempura restaurants in Tokyo. Let's try this golden-fried deliciousness at the best restos in Tokyo!
Feel free to follow favy!
Tempura Hasegawa
The tempura served by chef Hasegawa is some of the lightest and most refreshing you'll ever taste. The batter includes no eggs, and is created with the chef's secret mix of various flours. Although the chef trained for many years at Kyoto's 'Kyoboshi,' one of the most famous and highly-regarded tempura restaurants in the world, he has his own style of cooking, and isn't afraid to experiment with new and non-traditional ingredients. The chef's 'Tencha,' shown below is one of the dishes that is a particular stand-out.

Hasegawa has only been open since 2012, yet has earned quite a reputation, including a Michelin Star. The restaurant is unquestionably one of the best places to eat tempura in Tokyo, so don't miss a chance to visit if you get the chance!

Tempura Yamanoue
In Roppongi and in Ginza, Tempura Yamanoue is a very popular tempura restaurant. For lunch, you can get a set from ¥2,275 or a course from ¥5,500. Dinner starts at ¥9,000. If you're lucky, you can get a seat at the bar to see the chef in action! The vegetable tempura bowl is delicious, it has seven kinds of vegetables (sweet potatoes, asparagus, shiitake, etc.). It's high-quality tempura made by a skilful chef.

Tempura Tenkane
Tempura Tenkane has been operating for 10 years and is probably the most popular tempura restaurant in Tokyo and undoubtedly one of the best. The fish tempura is crispy, yet light and juicy! Watching the chef prepare these high-quality, fresh tempura was quite the delight. There are three set menus to try from; although you only get one small dish at a time, it is actually quite filling! For lunch, expect to pay ¥3,000~¥4,000; and for dinner, ¥6,000~¥8,000.
Tempura Kondo
This two Michelin star restaurant in Ginza is on the pricey side, but the tempura is simply exquisite. The tempura vegetables were crisp and juicy. The clams were also delicious! The batter is light, unlike anything you've ever had! This restaurant is highly popular so it's a little difficult to get a reservation; it is easier to go for lunch, but it's still as satisfying! It is a two Michelin star restaurant, so prepare to pay accordingly.
For lunch, it's between ¥6,500~¥10,000; and for dinner, its over ¥10,000.

Tempura Motoyoshi
Tempura Motoyoshi is close to Gaimmae station, and is a high-end tempura restaurant. It is a one Michelin star restaurant and you have to make a reservation before-hand.
The vegetable tempura is incredible and is suitable for vegetarians. The restaurant is tiny, but you get to sit at the counter and watch the chef do what he does best!
The "omakase course" (leaving it up to the chef) is ¥15,000, but there are cheaper menus to choose from.
Tempura Tenshige
A classic in Akasaksa, this restaurant offers good quality food and friendly service at a reasonable price. For lunch, there are two menus to choose from: tendon and kakiage (both ¥1,300). The restaurant is very small (only 20 seats), you can either sit at the counter or a table.
Tempura Tsunahachi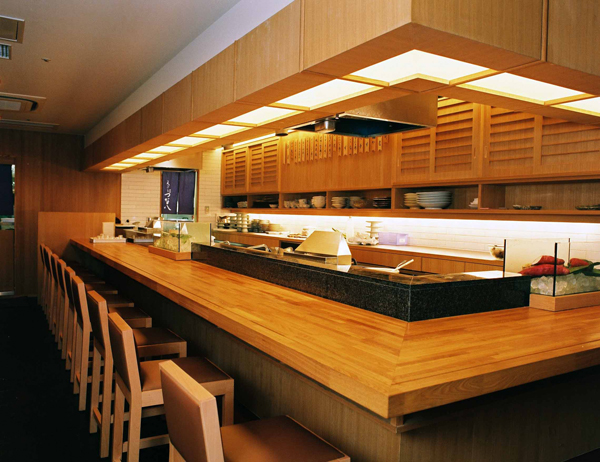 The main store is in Shinjuku sanchome, a few minutes from the station. This area is surrounded by small bars and is walking distance to famous Golden Gai (the tiny alley with tinier bars). So before a night of heavy drinking, you might want to fill up on something consistent. Although, the restaurant has a very elegant feel, tempura sets are around ¥2,484-¥5,400. If you want good tempura at a reasonable price, this place is the place to go. You get a series of different dishes to try.
Tempura Fukamachi
This restaurant is located close to Takaracho station, which is walking distance from Ginza-itchome, Kayabcho, Hatchobori and Nihombashi station. After an afternoon of shopping, you can stop by beforehand for lunch, or afterward for dinner.
The tempura at this restaurant is so light and tasty that it will definitely change your perception of tempura. The "tendon" (tempura bowl) is a no-brainer and is guaranteed to be out-of-this-world. You should also try the "uni" (sea urchin) wrapped tempura.

Ten-ichi Ginza Honten
Tenichi has its main store in Ginza, but also has branches elsewhere in Tokyo. This restaurant has a traditional and elegant Japanese atmosphere, in fact, they've been serving tempura for over 80 years.
The lunch and dinner are quite pricey at this resto, but it is definitely worth it. Lunch is from 8,000 yen, and dinner is from 10,000 yen. The tempura's batter was light and let the taste of the fish and vegetables shine through.
Tempura Kurokawa
Tempura Kurokawa is located in Tsukiji market so you know the seafood is going to be fresh and tasty!
The restaurant isn't very big, however, the service quick and hospitable and most importantly, the tempura is awesome! During peak hours, you will probably have to wait in line (as is the case for most restos in Tsukiji!).
Mikawa Zezankyo
Mikawa Zenzankyo is definitely not on the cheap side, but if you want an unforgettable tempura experience, you should try this delicious restaurant in Monzen-Nakacho. The presentation is astounding and the taste is phenomenal. You will have to make a reservation quite some time in advance (perhaps a few weeks). Some people say it's the best tempura they've ever had!
Finally...
We hope you have an unforgettable tempura experience in Tokyo. You're bound to fall in love with one of these tempura restaurants in Tokyo, as they are by far the best!
Restaurants Mentioned in this Article