Updated: October 30, 2019
Katsudon (deep fried pork cutlets on rice): here are 7 of the best shops in Tokyo to have it!
Tokyo
Katsudon is a popular dish that is both filling and delicious. Usually very cheap, you often see students and business people alike flocking to katsudon shops during their lunch break for a satisfying quick meal. Here are some of the best places to try out katsudon in Tokyo!
Feel free to follow favy!
What is Katsudon?
Simply put, katsudon is deep fried pork cutlets with eggs and sometimes vegetables placed on a bowl of rice. A tare (Japanese-style sauce) is usually added to enhance the flavor. The word katsudon comes from tonkatsu (pork cutlet) and donburi (rice bowl dish).

Here are some great places to have it!
Sakamotoya
This highly reputable shop makes its katsudon in a very traditional style. It's been in service since 1923! Located at just a 3 minute walk from the Nishi Ogikubo Station.
Sakamotoya serves its katsudon topped with an half-boiled egg poured on it and a few green peas which is reminiscent of an old-fashion Showa era dish. With just the right amount of tsuyu sauce and crispy cutlets, this dish achieves the perfect balance in taste and texture. Standard, yet so good, it's been an Ogikubo neighborhood favorite for almost a century!
Akebono
Akebono is a relatively small place with 11 counter seats. It is located very near the Yurakucho Station.
Akebono uses a fair amount of eggs on its cutlets. The taste of the tsuyu sauce is on the sweet side and it mixes very well with the rice too. There are also some onions in this dish which further brings out some sweetness. The standard size at 980 yen is very filling.
Zuichou
Zuichou is a very small place with just 8 counter seats. This is a popular shop so there is often a queue to get in at peak hours. It is located at a 10 minute walk from the Shibuya station.
There are no onions or vegetables in their katsudon. The cutlets are thin and placed over the eggs. Unlike many katsudon that use some miso for the sauce, this store doesn't use any. Instead it has adds a delicious suimono (clear broth soup) that is sweet and slightly salty.
Suzushin
Suzushin is a lovely, very traditional style restaurant with a staff appreciated for its warm welcoming of customers. Located at a 4 minute walk from the Yotsuya Sanchome Station.
This famous store which has over 60 years of history makes its katsudon in a slighty different way. The Katsudon San Kyoudai is the dish you should get. For this one, on top of the rice is placed some cabbage, and over the cabbage goes the cutlets. The cutlets are topped with some grated daikon and some sauce. Lastly, the half-cooked egg is poured on the cutlets. The cutlets are crisp and tasty and the overall taste attains the right balance of sweetness and saltiness.
Niigata Katsudon Tare Katsu (Shimbomachi)
Niigata Tare Katsu is another great tonkatsu shop with lots of great choices. It has 4 shops in Tokyo. The Shimbomachi one is located at a 4 minute walk from the Suidobashi Station.
Although their standard katsudon is delicious, you might want to try the vegetable mix katsudon in which you get two small pieces of fried pork along with a mix of 5 deep fried vegetables. The vegetables taste great, and the pork is tender. The sauce used here is made from organic soy beans. The dish is very tasty as it is but you can add mustard or sansho (Japanese hot pepper) to give a different flare to your dish.
Tonki
This famed tonkatsu restaurant is located in the center of Ginza, where department stores and high class and refined restaurants gather.
The core of the katsudon, the katsu itself receives favorable reputations for being delicious. This is why it is a very popular bowl. Although it is located in Ginza, katsudon can be eaten for under ¥1,000 during lunch time so lunch is the time to go.
Tonkatsu Ginza Bairin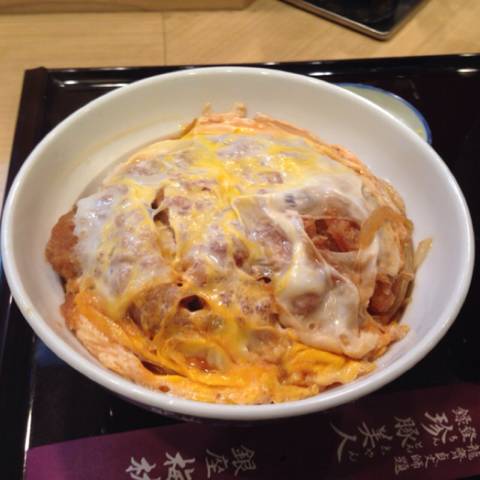 Set meals are priced rather high like other stores in Ginza but their katsudon is at a reasonable price of ¥1,000. Don't you want to eat the finest katsudon at a restaurant that lives up to the "Ginza" name and has a high class feel?
Lastly...
If you are really hungry, don't think twice and go try one of those tonkatsu shops in Tokyo! They are definitely among the best there are. You won't be disappointed!

Looking for something similar? You should check our tonkatsu guide for Tokyo! See link below.
Restaurants Mentioned in this Article